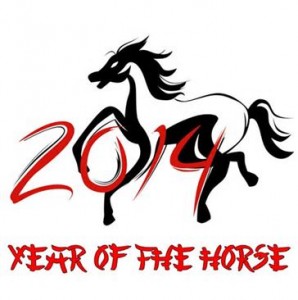 Today, February 1, 2014, is the first day of the Chinese New Year 2014, the year of the Wood Horse. Unlike in the US and Europe where we celebrate for only one evening, the celebrations for the New Year go on until the 15th day of the month.
Legend has it that Buddha asked all the animals to meet him on Chinese New Year. Twelve animals, namely a rat, an ox, a tiger, a rabbit, a dragon, a snake, a horse, a goat, a monkey, a rooster, a dog and a pig followed his invitation and Buddha decided to name a year after each of them, people born in the respective years are considered to have some of the resepctive animals character traits. If you were born in a Horse Year you are considered to be cheerful, skillful with money, perceptive, witty, talented….. Those born in a year of the Rat are witty, imaginative and curious, full of energy, talkative and charming but have a tendency to get aggressive.
Traditionally, celebrations involve lots of family time and food. Usually on the first day, in order to chase away evil spirits, fireworks are lighted and bamboo sticks burned. Oftentimes people will wear red as this is considered to be a color of good luck, and hand out red envelopes with money to kids.