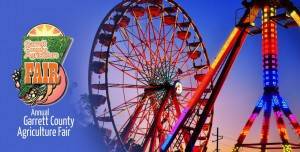 It's that time of year again for the Garrett County, MD Agriculture Fair! This is a great time for all family and friends to get out and enjoy the local vendors, crafters, and farmers of our County. Not to mention everyone's favorite THE RIDES!
The fair officially opens on July 28 – August 2, 2014. Tickets for the rides are $10 for every person over 36″ tall., Children under 36″ tall are $5 and all children under 2 years of age are free. If you wish to only enjoy the shows and exhibits you can purchase a non-rider ticket for $5 at the following locations….. Greggs Pharmacy, Oakland Southern States, Arrowhead Market, Shop N Save, Fratz Tru Value, Friendsville Pharmacy, Slopeside Market, Beachy's Pharmacy, & Little Sandy's (Sand Flat Rd.)
If you would like to view a schedule of events and shows please click the link below to go to the GC Agriculture Fair's official website. And don't for get to check out our Humberson Homes exhibit!
http://www.garrettcountyfair.org/fair-information/fair-schedule